Dr. Roberta Donahue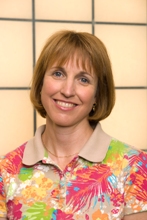 Dr. Roberta Donahue
Associate Professor of Health Science
Education
B.A., History - College of William and Mary in Virginia
M.Ed, Health Promotion - Northwestern State University in Louisiana
PhD, Health Education/Health Promotion - The University of Alabama
What do you like best about teaching at Truman?
Many Truman students are passionate about social justice.

How have you involved undergraduate students in your research?
Undergraduates are heavily involved in the planning, implementation, data analysis and presentation of the 2007, 2008, 2009 and 2010 Missouri College Health Behavior Survey at Truman.

What do students seem to like most about your classes?
My enthusiasm and passion about eliminating health disparities.

What graduate schools are some of your former students attending?
Kirksville College of Osteopathic Medicine, Arizona School of Health Sciences, St Louis University, Kansas City University of Medicine and Biosciences, Creighton University, Washington University, University of Missouri (Um)-Columbia, UM-Kansas City, UM-St Louis, The University of Alabama, Vanderbilt University

What careers have some of your former students entered?
Physician Assistant, Osteopathic Physician, Registered Dietician, Health Promotion Specialist, Public Health, Allopathic Physician, Education, Dental Science, Optometry, Nursing, Chiropractic Medicine

Additional experiences or positions held:
U.S. Army Medical Service Corps Officer, Health System Specialist in a Community Hospital,Fitness Specialist at Women's Exercise Research Center, George Washington University, Instructor and Assistant Professor, Health Science, The University of Alabama, Instructor and Teacher Trainer for Kaplan Test Preparation

Research interests:
College Student Health Behavior, Reducing High Risk Behaviors Among College Students

What do you think makes Truman unique?
The primary function of the faculty members is teaching undergraduates. Many departments have no graduate teaching assistants.