Brittany Brands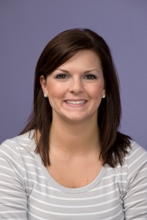 Brittany Brands
Health Science, Pre-MAE, Biology minor
Education
Pattonville High School
St. Louis, MO
Organizations
President of Student Public Health Association Kirksville CHEERS/SMART Coordinator
Phi Epsilon Kappa- Exercise Science Fraternity
What do you like best about Truman?
I enjoy knowing faculty on campus-they know me personally and are willing to help out whenever I need it.

What has surprised you about Truman?
I came to Truman expecting to study for four years and graduate. To my surprise, I have fallen in love with everything about Truman. I couldn't imagine myself completing my undergraduate degree anywhere else.

What do you like most about your classes?
My classes are rarely over 25 people and the teacher always learns my name. I feel comfortable approaching the teacher with any issues I have.

What do you feel is unique about Truman?
Somehow, Truman attracts top high school students who are very goal-oriented. Truman students forget how smart they are because they are always surrounded by people with a similar intellect.

How would you describe life at Truman to a friend?
Life at Truman is convenient because you are a short walk or short drive from anything. Despite Kirksville being a small town, there are tons of things to do and great local restaurants.

Have you studied abroad, done an internship, or participated in undergraduate research?
The Spring Semester of my Sophomore year, I studied in London through the Missouri in London Program. This has been my favorite experience at Truman and I recommend study abroad to anyone who is slightly interested. Truman has several resources to help students with these opportunities.

What are your plans after graduation?
I plan to complete Truman's Masters program for Elementary Education.

Honors or Recognition:
Presented at the BACCHUS & GAMMA Area 5 Network Conference in Kansas City, MO in 2007 and 2009. Presented at the Student Research Conference in 2007 and 2009.